Products
MAXIMATOR Far East offers a wide range of Maximator high pressure components like the MAXIMATOR Air Driven Pumps, Gas Boosters, Air Amplifiers and Valves, Fittngs and Tubing made in Germany. Furthermore, we provide machinery such as Conning and Threading Machine, and accessories like Pressure Gauges, Chart Recorders and Ultra High Pressure Hoses of outstanding quality.
---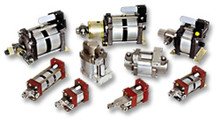 High Pressure Pumps
We provide high-quality air driven pumps. The compact, low-cost MAXIMATOR high pressure pumps are driven by air or inert gas of pressures between 1 bar and 10 bar. There are numerous potential applications for MAXIMATOR Pumps in machine engineering, oil and gas industries, chemical and pharmaceutical industries, defense, mining and the construction industry as well as in aviation and aeronautics. The air driven high pressure pumps generate working pressures of up to 7000 bar.
More information about MAXIMATOR High Pressure Pumps?
---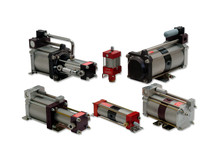 Air Amplifiers
MAXIMATOR PLV series Air Amplifiers are suitable for the compression of pressurised air or nitrogen up to 100 bar. The units are capable of increasing normal pressures of 4 bar or 6 bar to the desired final pressures. The PLV Air Amplifiers are operated with normal shop air and are provided with a variety of pressure ratios. The compressed air from the standard air system is compressed to the desired higher final pressure. This is a simple, safe and economic mode of operation. Thus, expenditures for an in-house high-pressure system or a separate decentralised compressor plant can be saved.
More information about MAXIMATOR Air Amplifiers
---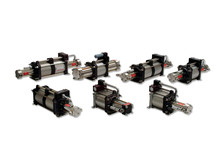 Gas Boosters
We provide gas boosters such as Argon, Helium, Hydrogen and Nitrogen boosters. MAXIMATOR high pressure boosters are suitable for the oil free compression of gases and air. The gas boosters are driven by air or inert gas of pressures between 1 bar and 10 bar. Industrial gases like Argon, Helium, Hydrogen and Nitrogen can be compressed to operating pressures of 2,400 bar (36,000 psi), Oxygen to 350 bar (5,075 psi). Air driven boosters are an efficient alternative instead of electrically driven products and can be used in explosion proof areas. Typical applications for gas boosters are pressure tests with gas, gas transfer, gas recovery, charging of accumulators or leak tests.
More information about MAXIMATOR Gas Boosters
---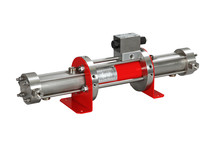 Hydraulic Driven Boosters
The hydraulic driven boosters types HDLE are suitable for the compression of industrial gases and hydrogen. Four different basic models cover pressure ranges from 50 bar up to 900 bar. The flow rate remains constant over the entire pressure range. The HDLE Series boosters can be operated at a maximum temperature of 100°C. They are used in the automotive, energy, chemicals and petrochemicals, and oil and gas industry (onshore and offshore) to increase the gas pressure for a wide range of applications to the required working pressure.
More information about MAXIMATOR Hydraulic Driven Boosters
---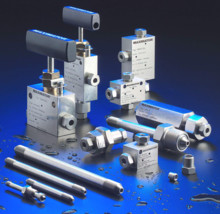 Valves, Fittings and Tubing
TThe MAXIMATOR Valves, Fittings and Tubing are suitable for different media and operating pressures up to 10,500 bar. The product range comprises Valves, Fittings (including sour gas fittings), Filters, Non-Return Valves as well as Tubing and Nipples in the Medium Pressure (1550 bar), High Pressure (4500 bar) and Ultra High Pressure (10500 bar) ranges. Selection of fittings range from 20k psi fittings to 60k psi fittings. Ball Valves, Valve Actuators as well as a wide range of Adapters, Accessories, Tools and Special Products complete our broad product range. We also supply 20k psi to 60k psi needle valves.
More information about MAXIMATOR Valves, Fittings and Tubing
---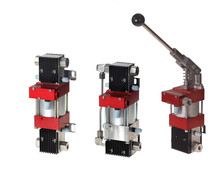 Rebreather Oxygen Boosters
The ROB-Series is designed for users who need to compress Oxygen up to 300 bar in the easiest and most effective way. Professional Divers are using the boosters of the ROB-Series to fill Oxygen bottles or to mix gases for technical diving as well as Fire and Emergency stations are committed to the quality of these compact boosters. The ROB units are driven with compressed air up to 10 bar. Alternatively, the ROB units can also be driven from a gas bottle or even by manual operation. They are light weight, flexible; they can be mounted on a dive boat or permanently installed in a Fire Station. There are six models in the ROB-Series which offer the optimal solution for each application. Even at low gas inlet pressures the required working pressure is generated quickly. This will ensure an optimum use of your oxygen bottles.
More information about MAXIMATOR Rebreather Oxygen Boosters
---
Heavy Duty Pressure Gauges
MAXIMATOR pressure gauges are manufactured with bourdon tube measuring system and the pressure range is up to 4000 bar (58,000 psi). Our range of pressure gauges complies with the general international measuring technology recommendations and is suitable for liquid and gaseous measuring media.
More information about Heavy Duty Pressure Gauges
---
Pressure Chart Recorders
MAXIMATOR supplies pressure chart recorders which are portable or with wall or panel mounting. All models are made of stainless steel and stock is readily available for pressure ranges of 10,000 psi, 15,000 psi, 20,000 psi and 30,000 psi.
More information about Pressure Chart Recorders
---
Ultra High Pressure Thermoplastic Hoses
MAXIMATOR supplies ultra high pressure thermoplastics hoses to withstand working pressures up to 3200 bar(46,000 psi) . Hoses with working pressures of 1000 bar(14,500 psi), 1800 bar(26,000 psi) and 2500 bar(36,000 psi) are readily available and we have cutting, crimping and testing facilities to assemble these high pressure hoses according to the specifications of our customers.
More information about Ultra High Pressure Thermoplastic Hoses